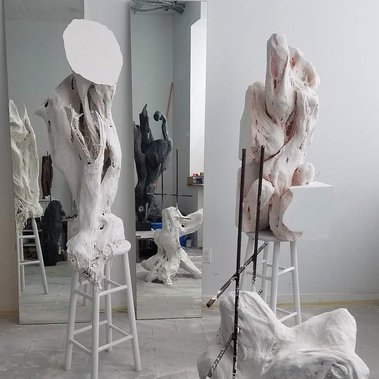 Alexandra (Leyre) Mein's artwork centers around the human body, sculpting's original subject. Her strong and yet vulnerable sculptures are imbibed with her interpretation of the human mind and behavior. Beauty, violence, death, vulnerability, the subconscious and the uncanny are all present in her pieces. She translates these themes with force into sculptures that are both from today and yet seem to come from another age. Alexandra's materials of choice are plaster and hydrostone, through which she creates strong anatomical hybrid figures who struggle between movement, stability, emotions and tensions. These sculptures with traces of there making are adjoined with polished pristine flat surfaces, rebar, rust, glass, and water pipes forming horse legs or tree trunks.
To minimize the intervention of her conscious mind she sculpts directly in plaster, shaping live-sized pieces without preliminary vision of the finalized work and by using a quasi-instantly setting material
Her work has a strong autobiographical aspect, and the solitude, the loss of her father. The palette of subtly nuanced colors, reminiscent of the Belgian skies, and desolate figures or forms seem to be engulfed in a silence. At the same time, however, they seem to burst out in contorted movements.
The seemingly unfinished aspect her sculptures reinforces the feeling that they are still in construction and growing, but they might also be seen as being at the dawn of their decay process. This duality of interpretation is central to the way she relates her work to life's visceral emotions, struggles and tensions.
She is inspired by the movements of renaissance by sculptors as Bernini, and the mysticism and alchemy of African sculptures — the whirling emotions and defined straight lines of Francis Bacon, the delicate rawness and the sensual portraying of hardship of Camille Claudel.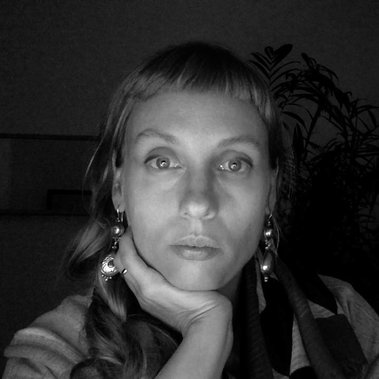 The Dutch/Belgian artist born in 1979, in Brussels, was trained as a fashion designer at the Royal academy of Antwerp before she switched over to visual art in 2008. She was awarded several artist residencies in the world (SVA, New York; Alain Servais, Brussels; Thaillywood, Thailand) and her work has been exhibited internationally in Paris at Palais d'Iléna, in Brussels at Aeroplastics, Maison Particulière, Botanique, etc., in the New York City at the Clemente center, SVA Westside Gallery, New House Center for Contemporary Art, Anton Kern Galler, etc. and in Asia. Besides her sculptural practice , as the human body is of such importance to Alexandra Mein she continues to work with dancers and choreographers. She has designed and made sets and costumes in collaboration with renowned contemporary dance choreographers such as Damien Jalet, Erna Omarsdóttir and Qudus Onikeku. These creations have been shown at the festival d'Avignon, Melborne international festival, Tokyo International Arts festival and at the Louvre in Paris. Alexandra now lives and works in Brooklyn, NY.